French theatre festival
Latymer students combining Drama and French with gusto - bravo!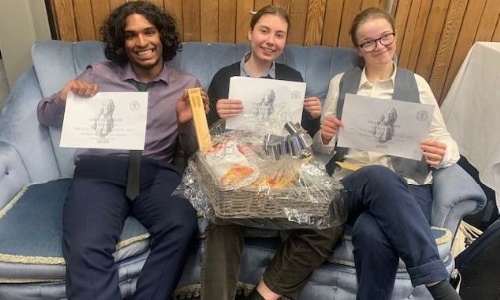 Sofia, Billie and Aden, Sixth Form students, took part in the French Theatre Festival at King Alfred School.
Sofia explained "We performed a five-minute extract from the play 'Compromis' by Phillippe Claudel, which we put together over the course of about two weeks. The competition was tough and of an extremely high standard, but we are delighted to announce that we won the Jury's Special Award for our piece!
I believe I speak on behalf of us all in saying that it was a joy to rehearse and such an unique experience to have the opportunity to act in French. We would like to say a special thank you to Madame Neudert for organising and directing the piece, to Madame Bourin and Mrs Hammer for all their help in rehearsals, and to Mr Hampson for the last minute moral support.
Also a massive thank you to all who came along to our lunchtime performance, giving us a proper audience and some great feedback. Hopefully we will see some current Year 11 and 12 students participating next year!"