Drama and Theatre
"If performance is powerless to affect the socio-political future, why then has it been taken so seriously by the successive powers that be?" Baz Kershaw
Drama plays a central role in the life of Latymer. Many pupils are attracted to the school, not just because of its academic excellence, but also because of the considerable opportunities that exist in the Arts, both in the curriculum and in extra-curricular activities.
Head of Department: Mrs J Hammer
Teachers: Miss L Kaymer, Ms N Kelsall
Through Drama, we aim to promote skills that will contribute to the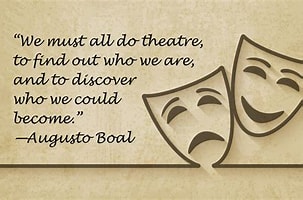 balanced development of all pupils, including collaboration, co-operation commitment, creativity, resilience, and teamwork. Expectations are high, and all students are taught to be inclusive and respectful of their peer's effort and contribution.
We aim to:
Study a knowledge-rich, horizon-widening breadth of content examined through physical, social, economic, environmental, cultural and political contexts to develop the inquiring minds of young people and encourage them to enjoy the arts in society and in a wide variety of cultures and communities.
Emphasise the importance of communication & collaborative skills and building resilience.
Engage students with critical issues and concepts that shape the society and community that we live in through the exploration of theatre and the arts.
Facilitate a mastery of the skills required to perform with confidence and flair.
Provide a platform for students to carry forward transferrable skills, for example public speaking and communicating to take forward into future careers.
KEY STAGE 3
In Years 7 and 8, pupils are taught in whole class groups, having three lessons (one single and a double) in each two-week cycle. In Year 9, pupils are taught in smaller groups (approx. 20) of mixed ability, having one double lesson in each two-week cycle.
Projects at Key Stage 3 are usually completed each half term. The emphasis is on practical performance skills wherever possible – 'learning by doing' - with differentiation to cater for all levels of ability. Topics include Stanislavski and Naturalism, Improvisation, Thematic Devised, Docu-Drama, Brechtian techniques, Contemporary play texts, with ongoing assessment of pupils' progress through performing, analysis and evaluation.
Making: Collaboration, drama techniques, imagination, focus and concentration.
Performing: Vocal skills, movement skills, characterisation, audience awareness.
Responding: Thinking and understanding, drama vocabulary, knowledge of theatre.
Year 7
Physical theatre
Contemporary scripts: 'The Willow Pattern'
Greek theatre
Mini-script project
Year 8
Melodrama
Playtext: 'The Exam'
Dramatic tension
Dramatising poetry
The theatre space
Thematic devised: 'The Titanic'
Year 9
Stanislavski and Naturalism
Alan Ayckbourn: 'Confusions' short plays
Non-naturalism
John Godber: ' Teechers' play text
Brecht: 'The Caucasian Chalk Circle'
KEY STAGE 4
At GCSE, our students follow the AQA Drama specification, and is a very popular option subject. The course is 60% practical, with 40% available for the written examination in which students are required to study a set play, write about a live production and respond to questions about theatre roles and terminology. Students will be taken to the theatre and develop their skills in critiquing analysing and evaluating acting, costume, lighting and set.
Year 10
Devised 'Tragic Events'
Set play 'Blood Brothers'
Responding to live theatre production
Year 11
Devised thematic - own choice
Responding to live theatre productions
Texts in practice
EXTRA-CURRICULAR ACTIVITIES
We aim to cater for a broad spectrum of standards and performance interests. There is a weekly Year 7 Drama club and we produce two large scale productions each year. Rehearsals for these shows are held at lunchtime and after school. The plays are very popular with over 100 students auditioning. Cast size is often up to 70 students for the large-scale musicals.
The senior and junior school plays are alternated with the senior school musical. This is performed in a fully professional setting with the Great Hall as the performance space. Students learn stage management skills, and the sound and light team is run by the students.
House Drama is a highly competitive biennial event is organised by Sixth Form students. The competition is performed in the Great Hall to a public audience. Each house prepares a 30-minute performance of an extract from a published play. An external adjudicator provides each house with constructive feedback and on the second evening announces the winner.
DESTINATIONS
We aim to foster a life-long passion for the Arts. This is represented by many students enjoying performing and directing during their undergraduate studies including joining Drama societies, for example 'Footlights' at Cambridge. Past Latymer students went on to study Drama, Theatre Studies and Acting at good universities and Conservatoires such as The Royal Central School of Speech and Drama, LAMDA, Arts Ed, East 15, St .Mary's, Oxford School of Acting and Chichester.