World Poetry Day
Marking World Poetry Day in a special way.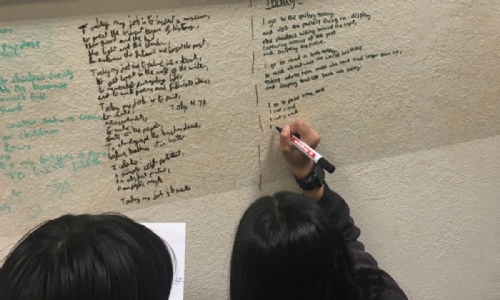 Reading Armemian poems to celebrate poetry.
On Tuesday 20th March, it was World Poetry Day. In recognition of this, some students in Years 7 and 8 read an Armenian poem by Lola Koundakijan and also two translations - one by Adham Smart and the second by Nadia Lines.
Zaynah and Ren, Year 8 students, explain "We studied the features of the original Armenian poem before reading the translations. In the first translation we saw how the structure and features were altered and in the second, we understood the imagery and inner meaning of the poem. Then, in pairs, we created our own variation of the poem using similar techniques and then displayed them across the English corridor."