Chamber music competition
Spotlight on our Year 8 Violin Quartet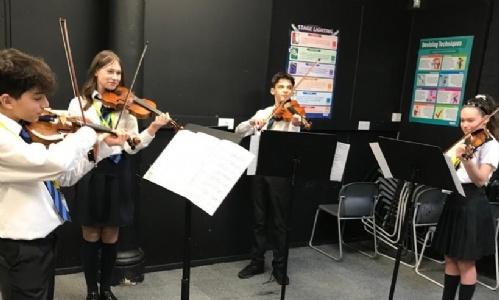 Our Year 8 Violin Quartet makes it to the semi-finals of a prestigious competition!
A Year 8 Violin Quartet, coached by Ms Drury (Head of Strings), performed music by Lutoslawski as part of the Pro Corda Festival, the only national festival to exclusively promote and celebrate chamber music within schools. The adjudicator commented on the accuracy of the players' intonation and the group's 'excellent communication throughout'.
Our pupils commented:
It was a really fun experience knowing what we did well and what we could improve. Listening to the other groups as well was very interesting and quite inspiring!
A remarkable experience, not just instrumentally, but helped me make great friendships with those around me.
I thoroughly enjoyed today's performance and believe that through the practice and effort that we have put into our music we have risen above our expectations...
It helped all of us with how we can produce a larger sound and how to fit the style of the piece that we played. Thank you for giving us the opportunity to play and to use the amazing feedback that we received.
Our wonderful quartet has now made it to the semi-finals, which is a fantastic result. Well done and congratulations to our four players!