Latymer Pride Picnic
Celebrating diversity at our school.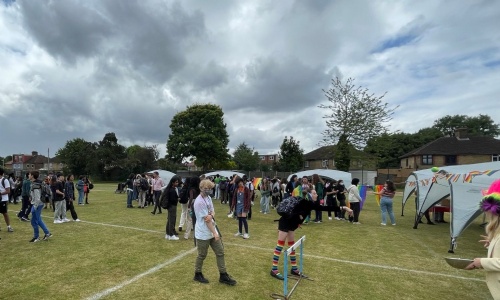 Fantastic day to celebrate the positive and inclusive nature of our school.
This last academic year at Latymer has seen great strides forward in terms of ensuring greater awareness of the importance of equality, diversity and inclusion for all students as the Latymer Equalities Action Plan (LEAP) has been rolled out. We have seen a greater focus on Black History Month, work with the African Caribbean Education Network, The Festival of Food to celebrate cultural diversity and a number of new student societies to reflect the enormous ethnic mix that make up and contribute so much to our school, to name but a few of the advances that have been made.
In February, we held our first LGBTQ+ History Month and an assembly that many students in our school either worked on or featured in.
Following on from the success of the latter, there was great enthusiasm within the LGBTQ+ Society for a Pride Event to take place. The intention of this event was not only for it to coincide with Pride month (June) and the London Pride Parade on 2nd July which this year marked 50 years since the first Pride March in 1972, but also to celebrate LGBTQ+ and the positive and inclusive nature of our school. We are aware of the very real risks and damage that a non-inclusive environment can have on students' wellbeing. School is a place to learn and enjoy being at. It should also be a place where people feel safe and supported.
Our Pride Event was an occasion where LGBTQ+ individuals and their allies could be proud of who they are and show the whole school community that diversity, equality and acceptance is essential not only at Latymer but in society too.
As Pete Hampson, Deputy Head, explains "I am proud to say that the whole school came together and supported this event; some in brightly coloured clothes and others in school uniform. BBQ lunches were eaten on the field and there were stalls and activities appealing to a wide cross-section of interests from painting to football, from wigs to unicorns."
Here are some quotes from our students and colleagues:
"The Pride Picnic was wonderful. It felt like a festival but managed to have and maintain the intimacy of a picnic. I saw people from all different years cheering and laughing together, the school has never felt like more of a close community, giving us a chance to regain the intimacy lost when Covid hit and we were isolated from one another." Martha
"I have been so happy to have the opportunity to support the LGBTQ+ society this year. I have been constantly amazed by the maturity and commitment shown by the students currently running the society. On a personal note, my older child benefited greatly from being involved in and eventually running the society whilst at Latymer so I am really thankful for the support that LGBTQ+ society provides to students. The Pride Picnic was yet another fantastic celebration of diversity at Latymer. Long may it continue!" Jenny
"The pride event that took place during lunchtime was a very fun experience that included many stalls and activities. Everyone seemed to have a good time and I think the event helped to raise awareness for the LGBTQ+ community as it got everyone involved including teachers and people who may not otherwise be able to learn much about this sort of thing." Martina
"The Pride Picnic was a great success with students from all the years coming to celebrate. It was good to see after a couple of years, where the school community felt fractured." Isaac
"It was a pleasure to be a small part of such an important event for all of our students. Latymer should always be a welcoming and inclusive environment and the attendance and enthusiasm of so many students across all year groups was wonderful to see. A particular highlight was seeing the vibrant colours of the rainbow flag represented by so many students in their outfits!" Holly
'It was brilliant to see so many students and staff celebrate Pride. From cakes, to dancing, to art, to sports, there really seemed to be something for everybody, and the rainbows shone through despite the grey clouds. It's fantastic to work at a school as loud and proud as Latymer.' Linnet
"I find it so refreshing to be working in a school that held such a wonderful event as the Pride Picnic. I have never worked in a school such as Latymer, that is so supportive of the pupil as an individual." Alison
"It was great to see such enthusiasm from students and staff for such an important event. I hope to see it continue to flourish in the future!" Alice
Not only was there much fun, colour and PRIDE but the lunchtime event raised almost £800 for two LGBTQ+ charities: the Outside Project (LGBTQ+ homelessness) and The Okra Project (bringing home-cooked soul food to Black LGBTQ+ individuals). This was a tremendous amount for this first event and as usual, Latymer students and staff rose to the occasion, magnificently.
Finally, a big thank you to all involved in the behind the scenes work to make everything possible on the day. We look forward to another Pride event in June 2023!