Music at Latymer
Another musical treat.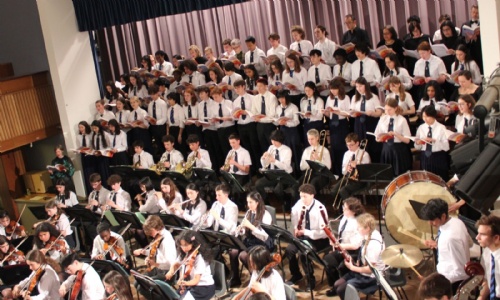 Our special end of spring term concert
Our large-scale concert at the end of the spring term featured over 250 performers from all years of the school: five orchestras, Concert Winds, Jazz Band, Double Reed Ensemble, a Drum Kit Duet, four choirs and three a cappella groups. The concert concluded with a performance of music from Songs of Sanctuary (Karl Jenkins), which saw Symphony Orchestra accompanying a large choir of pupils from Years 10-13, as well as some parents and former pupils.
What a concert last night! So many items took my breath away, not least the Chamber Singing - both Junior & Senior - and the exquisite performance of 'Oblivion' by Chamber Orchestra. Huge congratulations to your whole department. Do you think the students have any idea how exceptional these concerts are? I suspect not, since Latymer is all they've known. (Latymer parent)