Join the Latymer Sixth Form in 2023
Read on to learn how to join our outstanding Sixth Form.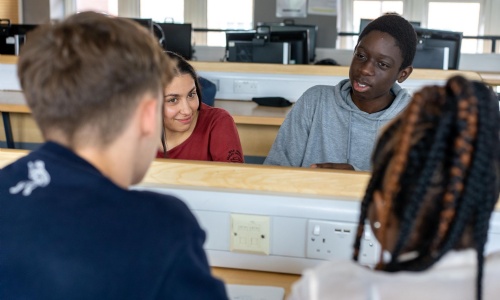 Learn more about admissions into the Sixth Form in 2023 and our upcoming open evening.
Each year we look forward to welcoming a new cohort of Sixth Formers to the Latymer School. The Latymer School strongly encourage applications from new students with a passion for their chosen subjects and welcome them to our community.
In March, our Sixth Form was rated as outstanding by Ofsted, and our class of 2022 had stellar results in their A Levels (more details on our results are available here). The Latymer Sixth Form's central aim is to help young people form a strong sense of identity and develop their own personal interests, in order to aid them in making these choices. Students have the opportunity to grow as individuals and demonstrate confidence, independence and conscientiousness, while studying a varied curriculum.
Our offering of extracurricular activities complements classroom learning, creating well-rounded individuals who are prepared for life beyond school. By providing an environment where differences are celebrated and respected, we aim to enable students to develop a strong sense of identity and individual purpose.
If you would like to apply, please read on the 2023 admission information. The deadline to apply is 30th November 2022, 4pm.
OPEN EVENING FOR NEW SIXTH FORM STUDENTS
Between 5-7pm on the 1st November, the Latymer Sixth Form is running an open evening for prospective students. You don't need to book to attend but we ask that you arrive at 5pm as presentations start at 5.05pm.
Ms Cobbett (Headteacher), Mr Wakefield (Deputy Head – Sixth Form), Mr Grassick (Deputy Head – Curriculum), Sixth Form Heads of Learning and Sixth Form students will be available throughout the evening to answer any questions.
Some subjects will deliver specific scheduled presentations, whereas others will provide opportunities for discussing the subject with relevant staff. For more information on the running of the open evening, please read the booklet below.