Instrumental and Vocal Performance Competition
Learn more about what's happening at the Latymer School. In terms of the calendar, the school does, on occasion, need to change the date or timing of an event. Please always check in advance that no change has been made.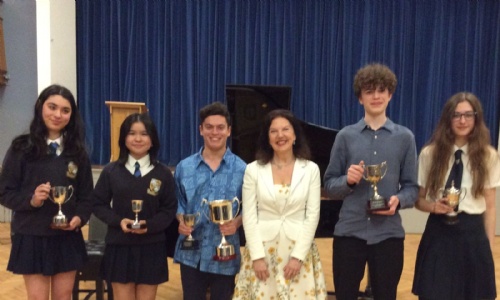 This year there were 229 entries across the Beginner, Elementary, Intermediate and Open categories of our Instrumental and Vocal Performance Competition.
Following the preliminary round we were treated to an evening of high-quality music-making in the Great Hall from the Open category finalists.
Our visiting adjudicator, violinist Tasmin Little, had some very difficult decisions to make. Well done to all the participants and particular congratulations to the Open finalists and to the five section winners! The Outstanding Performance trophy was awarded to a Sixth Form percussionist for their performance of a movement from Milhaud's Percussion Concerto, accompanied by a Sixth Form pianist.