Authors' visits to the school
Special assemblies and workshops with some incredible writers.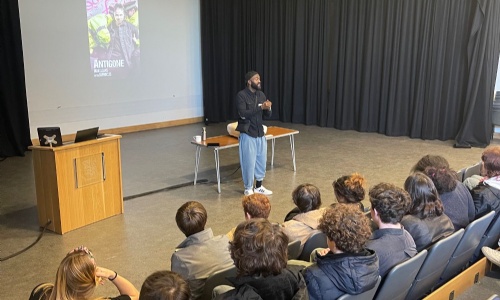 Authors Inua Ellams and Joanne T. Williams running special activities at the school.
On Tuesday 6th December, Year 12 English students were able to take part in a workshop with playwright and poet Inua Ellams. Inua is from Nigeria, his childhood, religion, and strong sense of community defining features of both his plays and his poetry. Faith plays a big role in both Inua's work and life, growing up with a Muslim father and Christian mother, and this is reflected in his plays and poetry, his works mainly featuring themes of identity, displacement, and destiny, themes that are evident in his recent adaptation of Antigone.
As Ruby and Harry, Year 12, e
xplain "Inua has written plays for many different theatres, including the National Theatre and the Royal Shakespeare Company, and spoke to students about his process in adapting such an old play into a modern context, and just how many of the themes – religion, power, and more - are still relevant today. At the end of the workshop, the students were offered the opportunity to ask questions about Inua's writing process and views, learning how he often uses real-world experiences to form characters and dialogue, and how personal the plays he writes are as a result. Students also heard about what it is like to work on a play, and the collaborative process that means those involved must trust each other's creative decisions, as well as how plays are often changed across performances. A big thank you to Inua for offering our Year 12s a unique insight into play writing and allowing them to appreciate the plays they study in much greater depth."
Mohammed, Year 11, continues "A few of us in Year 11 were very fortunate to have been given the opportunity to participate in a creative writing workshop with famous poet Inua Ellams. In this workshop, we were given tasks that essentially allowed us to create simple, short stories out of pretty much nothing. For example, we started with brainstorming emotions that we were supposed to use to pick one that would provide the basis for our stories. We then had to think of three words for each category of the five senses that would relate to that emotion.
So, with fifteen words, the foundations of our stories had been made and it was up to us to try and create something even if the words were completely random. I think that it was a very useful workshop as it allowed me to overcome any creative mind blocks, and it helped me get my pen flowing more freely. I am massively grateful to Inua Ellams for helping us with creative ideas and I'm sure everyone thoroughly enjoyed themselves."
Finally Zikora and Aurora, Year 10, conclude "Inua Ellams talked to Year 10 about his work and life as a Nigerian immigrant living in the UK. His talk was very inspiring and encouraged us all to open up and share our experiences through poetry."
As well as Inua Ellams, the school welcomed the author of the Lizzie and Bell mysteries, J.T. Williams, who hosted a creative writing workshop at Latymer. The Year 7 students that were chosen got to learn more about Lizzie's father, Ignatius Sancho, and to write a letter as their own detective as if a crime had just occurred.
Rabab, Year 7, explains: "Joanne, (J.T. Williams), told us that Lizzie Sancho and Dido Belle were both real people and that her story was based on an idea that Lizzie and Belle met. During this workshop, Joanna allowed us to see some letters that she wrote between Lizzie and Belle and we had to identify the differences between Lizzie and Belle's writing. It was a brilliant opportunity and hopefully one of many more during our time at Latymer."
"We had an amazing time meeting the amiable and rather inspiring Joanne. She managed to help us build on our creative writing skills and taught us about different types of writing, which was really enjoyable. Furthermore, she also told us, during the creative writing workshop, to never give up and that all of us had a great chance of being an author. I hope that other children have the opportunity to meet the wonderful Joanne Williams, (the author of the Lizzie and Belle mysteries) and go to her creative writing workshop. Thank you, Joanne Williams." Mia, Year 7.