Instrumental and Vocal Performance Competition
Learn more about what's happening at the Latymer School. In terms of the calendar, the school does, on occasion, need to change the date or timing of an event. Please always check in advance that no change has been made.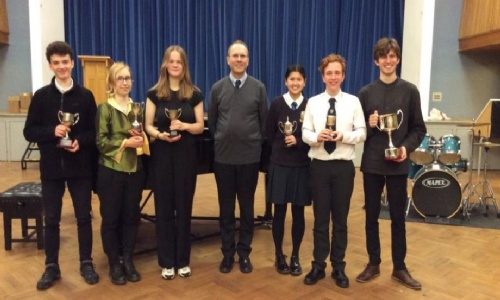 Congratulations to the winners of the Instrumental and Vocal Performance competition!
The preliminary round of our annual Instrumental and Vocal Performance competition - this year, the Open (Grade 7+) category only - took place last week, and the Finals were held on the 4th May in the evening. All in all, there was a total of around 100 performances!
Visiting adjudicator, Kyle Horch, commented that the musical standards were as high as in any school he had ever visited. We enjoyed a wonderful set of performances, accompanied by Mr Burrows and Ms Hopkins.
Well done to all performers and particular congratulations to the section winners:
Kathleen – Flute (Year 13)
Edwin – Piano (Year 12)
Will – Voice (Year 11)
Sarah – Horn (Year 13)
Elsa -Violin (Year 11)
Louis (Year 13) for winning the Excellence in Musical Performance trophy, a new award presented by Mary McNeill, for his vocal and saxophone performances.