A Special Music workshop
Bringing a different music to our students.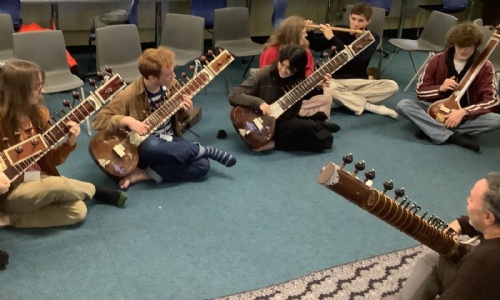 Year 13 Indian Music Fusions Workshop with Jonathan Mayer.
Jonathan Mayer is a sitarist and composer with extensive experience of performing Indian music as well as working with music fusion projects and ensembles, from his own Sitar Concertos (e.g. with the London Philharmonic Orchestra) to Indo-Jazz Fusion. He has worked with various Latymer ensembles in the past and will be coordinating a new fusions item for our forthcoming Royal Festival Hall concert.
One student commented, 'The session enabled me to understand aspects of Indian music and musical fusions with much greater insight, reinforced by some practical work on sitar, tanpura and bansuri. I am really looking forward to studying the next A level set work by Anoushka Shankar!'