The Latymer champions programme
Regular giving from parents/carers represents a vital support to the Latymer School.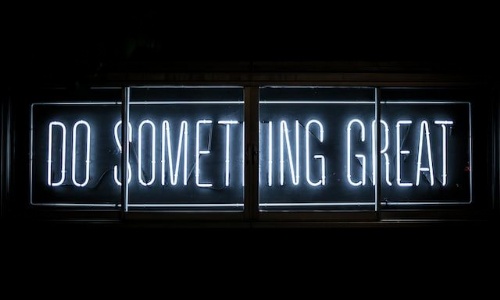 Each year we invite all families to consider becoming one of the Latymer Champions - regular donors who help provide an excellent range of experiences and facilities for all students at our school.
Exam results are clearly just one measure for a school, but an important one as our students want to progress on to the best universities. We are really pleased with our results and very proud of our Year 11 and Year 13 students. Parents might like to know that in The Times League Tables we were ranked ninth in the country at the grade measure of A*/A/B at A Level. At GCSE we were tenth for the grade measure 9/8/7. We are very proud of this achievement.
However, we need to acknowledge the support we receive from the Latymer Foundation in helping us secure smaller classes sizes in Key Stage 4 and Key Stage 5, and maintaining a positive teacher : student ratio.
In this difficult economic climate, the Latymer School relies heavily on funds raised for its Foundation to continue providing an excellent teaching and learning environment. For instance, last year, the Latymer Foundation funded the complete heating and electricity overhaul throughout the school. This year, they are enabling us to provide a full-time counsellor, a technology teacher as well as helping with the massive increase in energy bills that we face.
This is why we would like to say a massive THANK YOU to all the parents/carers who already generously donate to the Latymer Foundation! If you do not already support the Foundation, please consider joining our Latymer Champions programme - we would be extremely grateful for any support you may be able to give. Every contribution, no matter what the amount, is providing much needed support to your school and every student will benefit.
The Latymer Champions programme
Supporting the Foundation is about the spirit of participation and generosity - this is an excellent opportunity for you to get involved and support your school, at whatever level you can afford. Regular donations have the power to collectively make a huge difference to all our students!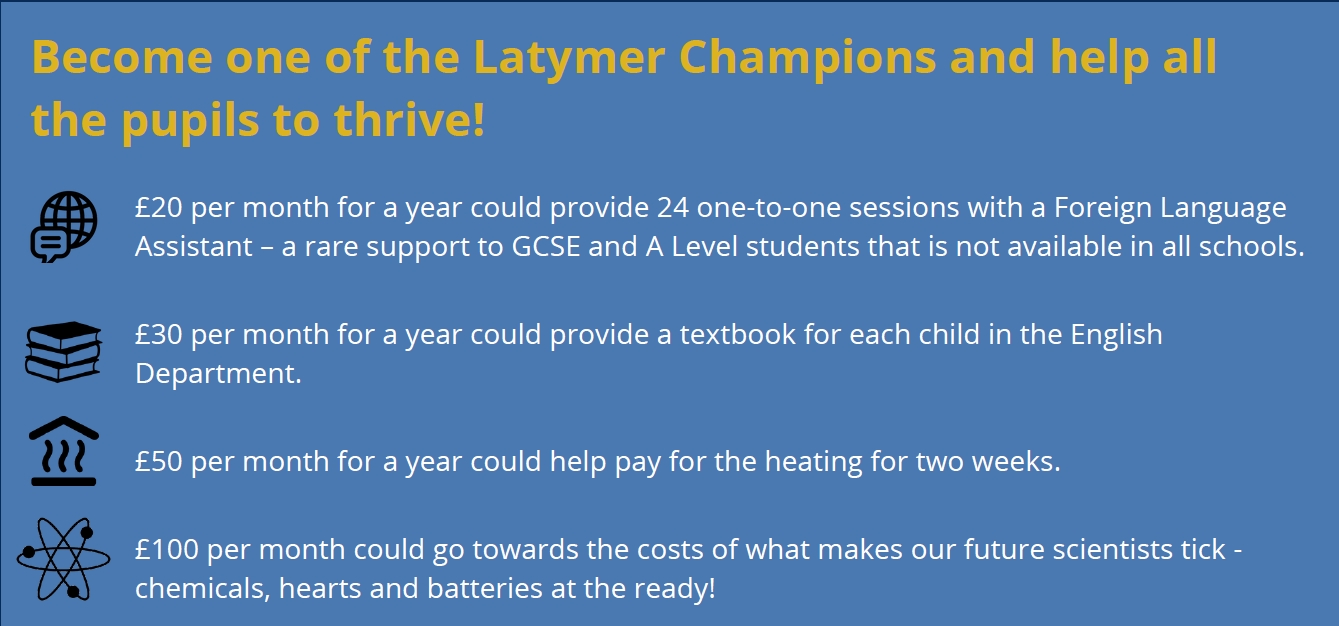 You can set up a monthly standing order at any time, via online banking (please email campaign@latymer.co.uk to let us know you have done so). Our bank details are:
Account name: The Latymer Foundation at Edmonton
Account number: 00006418
Sort code: 40-52-40
Reference: name of your child
For other ways to support the Latymer school, please visit the Support us section or make a one-off donation online via Paypal.
If you would like to find out more or have any questions, please contact Beatrice Cami, our Development and Alumni Relations Manager, at campaign@latymer.co.uk
Thank you so much for your support!
Picture: Photo by Clark Tibbs on Unsplash