Trip to Georgia
Learn more about one of the school's trips.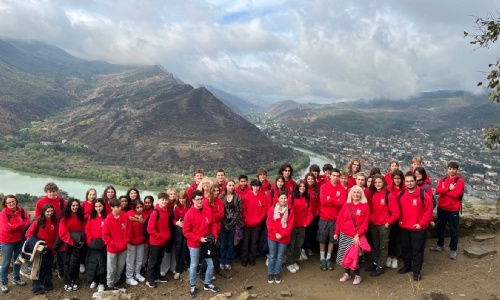 A student shares their experience about Georgia.
Will, a Year 12 student tells us more about the trip to Georgia that took place in mid-October: "This year, the Russian Department trip was to Georgia, a country surrounded by the Caucasian Mountains. Despite initial disappointment about not being able to travel to Russia (for obvious reasons), the trip exceeded all our expectations.
Students were able to experience the rich culture, amazing nature and fascinating history of this mountainous nation undervalued in the Western world and, even though the national language is Georgian, we were given many opportunities to practise our Russian. The trip started with a tour of the capital, Tbilisi, the setting of ancient conflicts, religious upheaval and great literary works. We saw numerous beautiful churches and rode a funicular up the side of the hill, providing us with amazing views of the city.
One of our favourite days was the trip into the Kazbeki mountains, where we saw spectacular views of the snowy peaks. Finally, a surprising aspect of the trip was the wealth of opportunities to practice Russian – for example, we were given two museum tours in Russian. Despite this being followed by a translation into English (much of which was done by students), many reported that they were able to follow this fluent speech accurately, which really helped to boost our confidence.
Overall, it wasn't just an amazing trip from a cultural and historical perspective, it was also a great opportunity to practice the language, making it a trip we all enjoyed!"