Musical Gala concert
Wonderful musical performances from our students.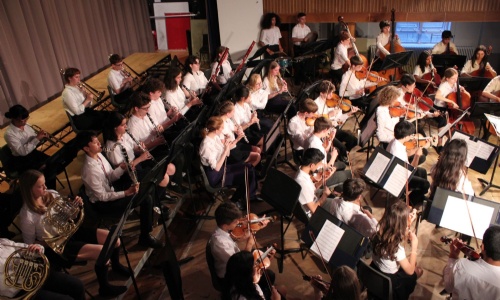 On the 14th July, our Gala Concert in the Great Hall saw fantastic performances from various orchestras, bands and choirs. Repertoire included orchestral music by Stravinsky and Gershwin, Vivaldi's Concerto for Three Violins, Holst's St Paul's Suite, music from The Wizard of Oz and Hairspray, folk music and choral works ranging from Stanford's Beati Quorum Via to Sting's Fields of Gold and the Beatles.
The concert ended with 'farewell' performances from Barbershop, and A Cut Above, followed by a rousing Jazz Band rendition of Hay Burner. Sixth form student Isaac commented "It was great to see a wide range of year groups taking part and musical genres on display. It was a lovely way to end the year and a fitting tribute to the departing Year 13 musicians".
Well done to all performers!