Our basketball champions
Fantastic achievement from our Year 8 Basketball team!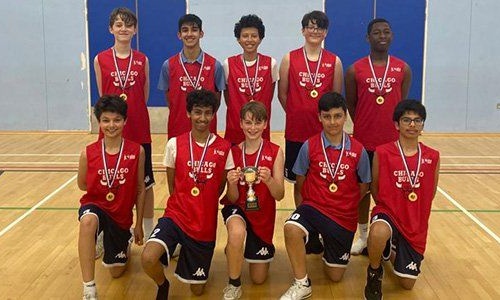 Congratulations to the Year 8 Basketball Squad who won the Enfield District Cup, beating Aim North London (31-27) in the final on the 14th March.
Stand out performances by Illyas and Noah, who lead the team to victory against a tough opposition! Having tied for points in the overall league season, this match became a play-off for the league title.
Finishing with a record of four wins and one loss across the regular season, the Latymer team headed into the game off the back of regular games in the Junior NBA competition which has seen them play competitive opposition across the North London area.
Whilst basketball is reasonably new as a school sport to play against other schools, for lots of the students involved this year basketball has represented their first chance to proudly represent the school in sport, which has been great to see.
A big thank you to our Basketball coach, PJ Russell, who has been taking the breakfast club sessions and preparing the various teams for such a busy programme of fixtures.
PJ will also be running an Easter holiday camp for any pupils who would like to come and develop their Basketball further. The sessions will run on Tuesday 19th April 2022, which happens to be an INSET day for pupils, and will be based in the Latymer Sports Hall.