Dolbe / Keats bazaar
Learn more about what's happening at the Latymer School. In terms of the calendar, the school does, on occasion, need to change the date or timing of an event. Please always check in advance that no change has been made.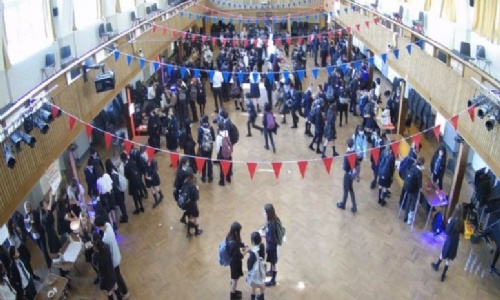 The return of our famous annual event!
The Dolbe-Keats Bazaar took place on Friday 25th March across the lunch periods in the Great Hall and was a huge success! In total we raised just over £850 which will be split between the Dolbe and Keats House Charities and Alzheimer's UK.
The annual event could not take place last year due to COVID restrictions and so has not taken place since December 2019, meaning for many pupils involved it was their first event. Pupils in Dolbe and Keats across the school were excited to plan out fundraising stalls and raise money for charity. From cake stalls and candy floss to Treat Pong and indoor bowling, there was certainly something for everyone! It was lovely to see a fantastic community spirit amongst all staff and students who volunteered to help out and who attended.
Amy, Year 8, explains "I got the chance to run a stall with two friends at the Dolbe-Keats bazaar. Our stall included an interactive Simon Says game and a treasure map. The atmosphere was buzzing in the Great Hall with great tunes being played. Although I was busy working on my stall, I still managed to get a chance to look around the rest of the room.
There was a large range of stalls in the hall during periods 6 and 7 - from candy floss to games like cup pong to cookie decorating! It was great to experience what it could be like to work in a busy retail environment whilst just having a bit of fun.
Our stall alone raised over £50, so I am very excited to find out how much we made altogether as a school to donate to our House charities! I am also looking forward to going to the bazaar again next year - hopefully to run another stall!"
A huge thank you to Mrs Tyrell, Ms Catherall and Ms Sanger as well as the site staff and pupil volunteers who all helped make it a truly special event!